Meet the Maker: Flat Leather Wallet
We met up with our friend James Craven, AKA Flat Leather, and, as well as a cuppa and a chat, we had the privilege of watching him craft our beautiful leather wallets.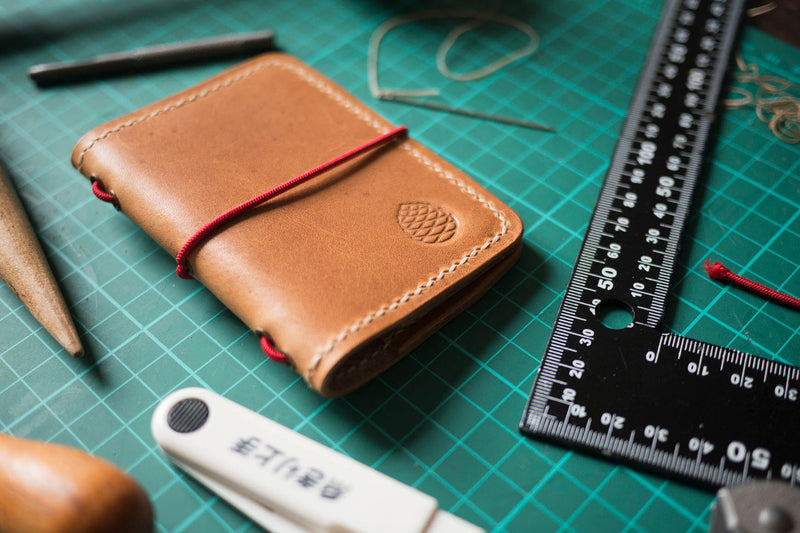 James embodies our values of quality craftsmanship, attention to detail, plain old working hard, and being nice to people. Here we share our photo journal along with a Q&A with the man himself.
Enjoy.
So, tell us all a bit about your fine self
I'm James, originally from the North East of England, now based in Sheffield, South Yorkshire. I live with my wife (Alice) and my two-year-old tour de force (Seb). We did a bit of moving around before we settled in Sheffield – but it's a top place to live; great beer, great people, and with the Peak District on your doorstep, what more could you want?
Interesting fact: a group of us took on the task of systematically rating every pub in Sheffield, all four hundred and seventy-one of them. The best pub in Sheffield? Shakespeare's on Gibraltar street, with a whopping 87.5%.
What made you decide to start making leather wallets? 
I fell into it by accident, really. My wife bought me a wallet for my birthday one year; it was my everyday carry for ages. It was a great wallet, fairly minimal, functional, but ultimately, it wasn't built to last. The stitching started coming away and it sort of fell to pieces. Around this period I'd been spending quite a bit of time in Japan (mainly for work) and I came across this thing called the Midori Traveller's Notebook. The first time I saw one, I picked it up, had a little rifle though, put it down, and didn't give it much thought. I mean, I thought it was a neat design, but not much more. Anyway, on the plane home I was sat next to this Japanese girl. She was meticulously cutting these elaborate shapes out of various patterned papers, lining them up on her pull-down tray, sticking them in this little paper book, and jotting down this and that. She did this for about 137 minutes (the length of "Manchester by the Sea", 5 stars). At the end of it, she rummages through her bag, and pulls out one of these notebooks. She pulls up the elastic, slots in her handy work and files it away. There was this whole process to it, and this thing was bulging, bursting at the seams.
When I got back home, I did a bit of digging. Cut a long story short, it turns out these things have a bit of a cult following, people are obsessive about them, carry them everywhere they go, record everything they see, do or hear. Some do crafting, some do journaling, there's a whole community, all over the world. Now, I'm not a big journal guy, I keep most of my to do lists and dates in my head, and as a consequence I'm generally running late and don't get a lot of the stuff I need to do done. But I loved the way this thing was setup and loved the idea of a wallet that had the same functionality. So, I did a bit of further digging, searching, Googling, but nothing. I couldn't believe it. I thought surely, someone must have had this idea before. But apparently not. Well, what to do but fashion one myself.
And how did you learn the craft?
Time and an internet connection. If you have a look on YouTube you'll find a whole host of talented leather workers, crafts-men and women. There are many people that I have learnt from over the past couple of years, but two in particular are Ian Atkinson of "Leodis Leather" and Nigel Armitage of "Armitage Leather". Both guys are phenomenally talented and have a genuine love for the craft. I can't thank them enough!
Did it take a while before you had made a wallet that you were happy with?
Luckily for me, the guys I learnt from were so good and so clear that the first one I made wasn't bad. At the time, I thought (rather un-modestly) that it was pretty decent! Obviously, I played it down a bit when people asked, but truth-be-told, I was pretty pleased with myself. I'd fashioned this thing from scratch, with just a bit of time, some pretty cheap tools and an idea in my head – I couldn't believe it. I still have the first Flat Wallet I made, and to be honest, I still think it's not bad for a first stab. It's quite a bit less refined than the ones I'm making today, the stitching is a bit off and the edges a bit raw, but not terrible.
How did you decide what ingredients to use for your leather and stitching?
Word of mouth, forums – research. There are a lot of very knowledgeable people out there in the leather community. Everyday I learn something or see something new. In terms of the materials I use, I knew of Horween long before I started making wallets, but I'd never knowingly handled their leather. It's incredible stuff and the pull-up (movement of oils and waxes within the leather that cause a lightning and darkening effect) on their leathers is second to none. As for the thread I use (Ritza 25, Tiger thread), the stuff is widely revered as one of the strongest and most resilient threads out there (German engineering), so I went with that. I'm currently looking at introducing a waxed linen thread alternative, but I haven't found one I'm happy working with yet.
Why do you hand stitch each wallet? Surely it would be much easier to do on a sewing machine?
There are a number of reasons, really, but they all tie back to something I truly believe in – if you are going to make something, make it well and make it so it lasts. I've always loved the idea of owning things for as long as possible. Not just because environmentally it's the right thing to do, but because the longer you own something, the more stories you have associated with it.
Every one of my wallets is saddle stitched using two needles and a single thread (one needle at each end). The main difference between a saddle stitch and a machine stitch is that every time the needles enter the leather they cross each other, meaning that the thread passes from one side of the leather to the other. If a stitch fails, no problem, the rest of your stitches will stay in place and your item will remain intact. Because a machine stitch is just a series of loops, when one stitch fails, game over; pull on the thread even slightly and all your stitches will come crashing down. The wallets I make are built for a number of reasons, to be functional – of course, to be aesthetically pleasing, but most of all, they are built to last.
What's the most challenging part of making the wallets?
I don't think I can pick just one. Truth be told, the margin for error at every stage is pretty slim. If you mess anything up, that's it, back to the drawing board. But that's the nature of handmade, I guess.
Why do you think it was a good fit for you to collaborate with The Level Collective?
Because you guys care – you have values and you're true to them. There have been a number of offers for collaborations in the past, but they just weren't good fits. With you guys, it was an easy decision.
What do you like to get up to in your spare time?
With a two-year-old, you end up spending a lot of time looking at animals, cars, trains and small humans throwing themselves down/off various plastic and metallic objects. It's fun, but I'll be honest – I'll be a happy man if I don't see another sheep in the next 12 months. When I have time to myself, I brew beer (not Flat Beer) and play music.
What's next for Flat Leather then? 
I'm always playing around with new ideas, sketching out designs, prototyping. There's a Flat Leather valet tray I quite like at the moment, it works as a pretty cool desk tidy, and I'm working on a neat design for a passport holder, so watch this space!
…nice one, well thanks for letting us see behind the seams in making your awesome wallets, and for sharing your inspiration – let's grab a beer soon, I hear Shakespeare's is pretty good…
Get your hands on one
Each of our card holders are handmade in Sheffield in tiny batches and we try to keep a handful in stock…
Well, that's all for today folks. Be sure to check out Flat Leather, and give James a follow on their instagram @flatleather.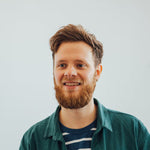 Mark Musgrave