Our Time to Mull
It was a spur of the moment thing. We were staying in the van, just making it up as we went along. So, with no expectations, we booked ferry tickets across to the Isle of Mull.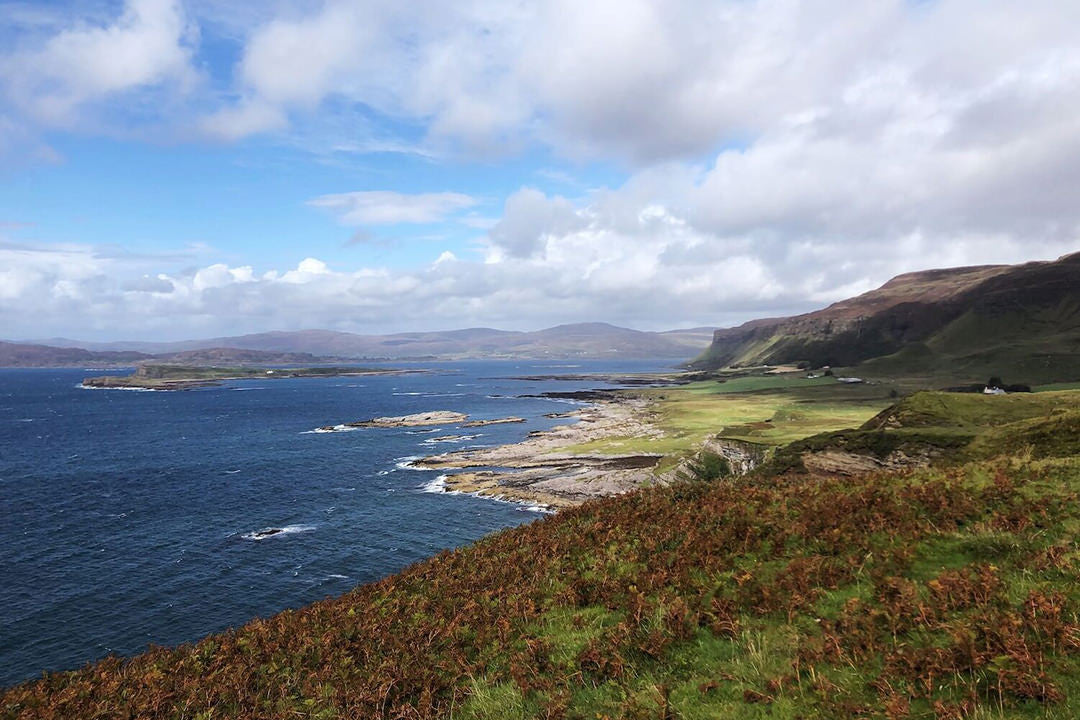 With intrepid spirits piqued and the ferry boarded, we were headed for an epic adventure in the unknown. Or so we hoped!
As we arrived, the sky was foreboding – downpour imminent. This then gave way to hands down the brightest rainbow we'd ever seen.
The photos never do it justice, do they!?
The rest of day one was a washout, so we just sheltered in the van, cooked supper under the tailgate, read, and watched Brassic (highly recommend), embracing the slowness, inconvenience and simplicity of (tiny) van life.
Notice the wedged umbrella and empty multi-pack crisp packet as impromptu rain guards. Quite effective, actually.
Day 2 was considerably brighter, so we headed to Fionnphort, to take the ferry across to Iona (a tiny Isle off the western tip). We stopped off for breakfast, with a view along the way.
We were struck by the complete lack of people, or cars (or Midges, thank the good Lord!).
Unlike Cornwall, there isn't any kind of clearly defined coastal path as such, so we just kind of stumbled across this silver sanded cove, which we had all to ourselves.
The next day we headed to Balnahard. A raw landscape of Iceland-esque mountains meeting wild ocean.
There was no road sign, we kind of just took a guess and ended up driving through a farm, before eventually reaching a tiny carpark at the end of the stony lane.
We found our dream home, with a waterfall in the back garden...
Changeable weather conditions abound... 
In our three and a half hour walk, we literally didn't see a soul...
...Which was probably best, given we'd decided to have a skinny dip in a calm pool along this beauty of a river.
It's a commonly trotted out cliche to say "it's about the journey rather than the destination", but never has this been more true than in Mull. Driving around is an absolute joy and every bend in the single track "road" reveals another raw landscape or a tiny collection of houses constituting a community.
There is no desire to drive quickly and risk missing another breathtaking view.
Suzie rocking her mustard Roll Top mini pack.
Although sometimes certain other road users make you come to a complete halt…
The next day we headed to Calgary – an ace little creative community and beautiful beach. By far the most touristy place we visited in Mull, but it still wasn't very busy at all. The car park was voluntary donation and they permitted one night wild camping in vans or tents.
Alas, our time in Mull had come to an end, and it was time to get the ferry back to Oban.
Perfect blue skies, of course.
So there you have it, a whistle-stop tour of Mull. If you're looking for truly raw landscapes, less people – and less Midges – then we'd highly recommend it.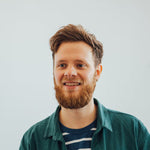 Mark Musgrave