Pack to the Future
With a new family member on the way and a spare room full to bursting, the time came to get help with our distribution: a partner that would not only pick, pack and post perfectly, but also give back to the community. Enter: MailOut.
Since starting The Level Collective around eight years ago, I have been picking and packing all of your orders from an array of spare rooms, garages ... wherever my home at the time allowed!
And, truth be told, I've loved it. I always felt very humbled that someone somewhere in the world was buying our supplies and supporting all that we stand for.
Suzie helping me pack orders in our old spare room stock room
Now, I think it's fair to say that the last couple of years have been strange for all. No doubt, in fact. Yet thanks to you fine folk, little by little, this little brand has continued to grow, and for that I will always be grateful.
However, it has also led to me spending more and more time picking and packing orders, and less and less time doing the things I'm best at: designing, creating, storytelling.
Balance was needed.
Plus, the spare room wasn't getting any bigger and my wife's belly was (with a new family member, not gluttony!).
Something had to give.
At heart, this business is about doing good for people and the planet. So, I figured, as it grows, that truth needs to shine in new ways, and if I could find a partner to manage our distribution and contribute to the community, then we would have a win, win situation.
The TLC wagon parked outside MailOut ready for unloading.
When I discovered MailOut, choosing to work with them was a no brainer. Based in London, this amazing social enterprise packs positive change by providing paid apprenticeships and employment for adults with learning difficulties – teaching them to pick, pack and process your orders. 
So, back in August, we loaded up the van, hit the road (and lots of traffic) and eventually arrived in North West London. There, we were met by the most wonderful team. Thankfully they had very good coffee and tasty dunkers.
Steve at MailOut preparing an order.
When you place an order now, not only are you investing in long-lasting product made to the very highest standards from the most durable and sustainable natural materials, you are also helping provide paid employment and training for people who might otherwise struggle to find it. 
To us, that's magic, and getting behind such a worthwhile cause as part of our growth is an honour. 
Still, without all of you incredible folk – all your ongoing love and support – none of this would be possible, it's that simple.
So, thank you for staying on the adventure. 
And for helping me get my spare room back.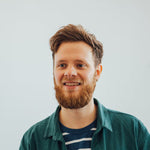 Mark Musgrave