A Pencil & Stapler: How we Designed our Backpacks
I'm always looking for a fresh design challenge, so a few years ago I decided to design an adventure backpack from scratch. Like you do.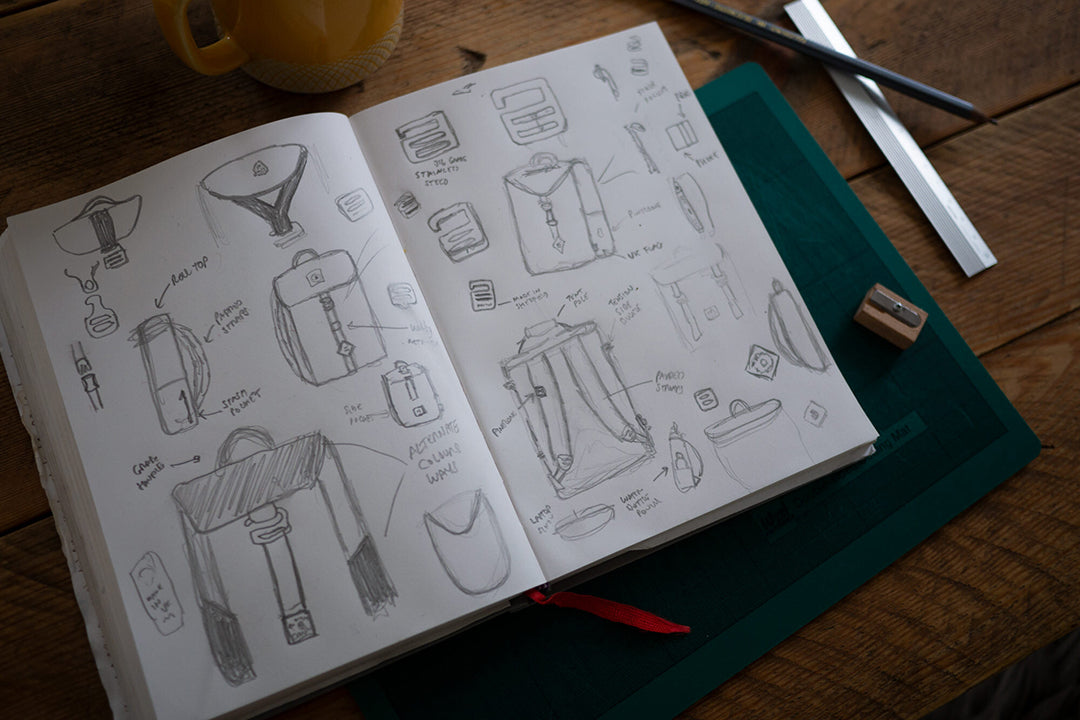 I had no idea what I was doing, or even where to start. 
Talk to the Tribe
I decided that a good place to begin would be to find out what our customers actually want.
So I created a survey, asking: What makes the perfect adventure backpack?
I was blown away by the number of responses.
There were helpful specifics, such as: weatherproof, padded straps, a laptop sleeve, back support, water bottle holder etc. 
Then more intriguing sentiments, such as: something different, something simple and something smart enough for work.
These gave me some good aspirations to shoot for.
Design principles
From my research, it seemed that most 'outdoor' backpacks are brightly coloured, made from plasticky fabrics littered with endless toggles and buckles. They also didn't look smart enough to wear for work, or around the city.
Conversely, most 'fashion' backpacks were made from low quality ingredients and lacked any real substance for the variable British weather, and so weren't suitable for hiking.
I wanted to create a hybrid pack – for the everyday commute, travelling adventures and outdoor pursuits. Something hardy... designed to withstand the variable British weather.
I wanted to design a backpack for fellow creative adventurers who have an appreciation for aesthetics, something hand crafted in the UK from the finest natural ingredients, sourced ethically and locally – something design-led yet functional.
Analogue
As ever with ideas, I start with the mighty sketchbook and pencil… and a rubber.
I filled over 30 pages with seemingly endless design possibilities.
In the end, I was drawn to the more boxy shaped designs, which had a kind of 1970's Scandinavian scout group vibe. Classic. Timeless.
This mini scribble in the centre of my sketchbook is the closest to how the backpack turned out
Swatches n' samples
A vital aspect of any product is the materials (or ingredients, as I like to call them).
I wanted to make the backpack from highest quality sustainable and natural ingredients, which would gain character and look better over time. I also decided to source all my ingredients in the UK.
So I began to request swatches and samples. Lots of them.
As a newbie to the backpack design world, I spoke at length with many different material suppliers to understand the different properties and benefits of each option.
It became clear that using all the best ingredients was going to be very expensive.
I had to decide whether to compromise on the quality of ingredients to achieve a lower price point, or just push forward to create exactly what I wanted.
I chose the latter option.
Just a small selection of the fabric swatches I received from various suppliers.
Going digital
So now I had a rough idea of the backpack design and some fabric options. Next I wanted to explore how the various colour options could look. As a seasoned Adobe Illustrator user, I figured this was the quickest way to create simple mock-ups. They were simplistic, but effective.
Prototyping
The next logical step was to commission a manufacturer to create the first prototypes from my sketches.
Then I had a ridiculous thought…
What if I made the first prototype?
What, me? 
But I've never done anything like this before.
I haven't even picked up a needle and thread since school!
It will look dreadful.
But, what did I have to lose?
Pins & needles
Basing the proportions on my digital mock-ups, I measured out the fabric and cut out the separate panels of the bag.
Interestingly, I noticed that the boxy shape of my backpack design led to very little wasted fabric compared with curvier shapes.
Now all I needed to do was attach the panels to one another with a needle and thread. Simple, right?
After spending a morning perforating my finger tips with pins and with very little to show for it, I needed a quicker method.
Hmm…
I dug out my office stapler.
It worked a treat.
Once I'd made the main compartment, I then attached some straps, webbing and handles. I could now actually put the bag on my back – minding the numerous sewing pins, of course!
I experimented with various design options, attaching additional bits of fabric on with my trusty stapler.
I now had my first physical prototype – and I'd created it myself.
Though laughable in appearance, to take the design forward, this prototype proved incredibly useful when visiting my specialist backpack manufacturers.
Prototype two
My local manufacturers then created the second generation prototype using temporary plastic buckles.
The second prototype
The buckles
I knew that having sturdy buckles were a must, but I couldn't find any 'off-the-shelf' that were right.
Never one to take the easy road, I decided to design my own custom stainless steel buckles.
This made for an interesting creative challenge in itself and warranted its own journal article – Making Our Own Buckles.
Production ready prototypes
Following various amendments to the second prototype, my local manufacturers then took my waxed cotton outer shell, veg tan leather and custom stainless steel buckles to create the final production-ready design.
For the lowdown on the components we carefully selected for our backpacks, then check out our journal article – Our Backpack Ingredients.
Winnats Roll Top Backpacks – handmade in the UK

Kickstarter Launch
So, after arriving at our production-ready design, as a small brand we decided to run a crowdfunding campaign to enable us to make them.
In November 2017, our awesome customers helped us to fund the first batch of Winnats Roll Top backpacks, via the Kickstarter campaign.
As part of the campaign, we made the video below, to show our design inspiration and manufacturing process.
In summer 2019 we launched the 2nd generation of our Winnats Roll Top backpacks – upgrading the quality and sustainability of our ingredients.
A few final thoughts
So there you have it, my creative journey in designing our Winnats Roll Top backpack, from pencil sketches to the real deal.
I learned so much through the experience – pushing myself creatively beyond what I thought I could do. With the help of some experts, I created exactly what I set out to create.
I hope you feel inspired to pick up your pencil and to start scribbling too.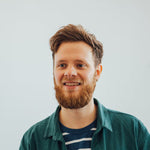 Mark Musgrave